Latest developments:
The Kremlin announced that journalists from 'unfriendly countries' will be banned from attending the St. Petersburg International Economic Forum. This is the first time since 1997, when the forum was first held, that Western journalists are not allowed to attend.
Belgorod's governor, Vyacheslav Gladkov, said Saturday, two people were killed and two injured by Ukrainian artillery fire on Russia's Belgorod region from Ukraine.
Britain's Defense Ministry said Saturday that Russia's airborne forces have assumed "an increasingly important role" in Bakhmut. The forces' pre-invasion elite status is now "much degraded," and the entire Russia force will likely be "less flexible" in reacting to operational challenges because of the deployment to Bakhmut.
About a quarter of Ukraine's bomb shelters have been inspected and were found either unavailable or unfit to protect civilians, officials said Saturday.
According to the Ukrainian interior ministry, of the more than 4,800 shelters it inspected, 252 were locked and 893 more were "unfit for use." Interior Minister Ihor Klymenko rang the alarm that civilian safety is compromised by unsuitable shelters during airstrikes in Ukraine.
The results of the inspection were announced just days after three people, including a mother and her 9-year-old daughter, were killed while trying to enter a locked shelter in the early hours of Thursday.
The husband of another woman killed by missile debris told reporters his wife was trying to get into a shelter in a medical facility, which turned out to be closed.
The Kyiv regional prosecutor's office reported that four people were detained in a criminal probe into one of the deaths Thursday. The prosecutor's office said that one person, a security guard, who had failed to unlock the doors, remained under arrest, while three others, including a local official, had been placed under house arrest.
The prosecutor's office says the suspects face up to eight years in prison for negligence leading to a person's death.
In a Telegram message Saturday, Kyiv Mayor Vitali Klitschko said city authorities have logged "more than a thousand' complaints regarding locked, dilapidated or insufficient air-raid shelters within a day of launching an online feedback service.
The interior ministry said that more than 5,300 volunteers, including emergency workers, police officers and local officials, would continue to inspect shelters across the country.
FILE - Ukraine President Volodymyr Zelenskyy, center, leaves after a news conference at the European Political Community (EPC) Summit in Bulboaca, near Chisinau, Moldova, June 1, 2023.
Zelenskyy: Counteroffensive "will succeed"
Ukrainian President Volodymyr Zelenskyy says Ukraine is ready to launch a counteroffensive against Russia.
In an interview with The Wall Street Journal published Saturday, the Ukrainian leader said, "We strongly believe that we will succeed."
"I don't know how long it will take," he said, "but ... we are ready." He said he wished he had more Western weapons, "but we can't wait for months."
Zelenskyy did not reveal a date for the counteroffensive.
In addition, Zelenskyy said he is a bit apprehensive about the outcome of the U.S. presidential election in 2024 because a less supportive administration could win.
Meanwhile, in his daily speech, the Ukrainian president addressed the need for a stronger air defense system through further development, supply and production of the "necessary missiles" in Ukraine.
"The Ukrainian air shield must continuously have all it needs. We are engaged in the coalition of Patriot systems and the coalition of modern fighters - actively every day," he said.
Regarding the long-awaited F-16 fighter jets, U.S. Army General Mark Milley, chairman of the Joint Chiefs of Staff, said they won't be ready for Ukraine's upcoming counteroffensive.
Upon his arrival in France earlier this week, Milley said, "everyone recognizes Ukraine needs a modernized air force," but regarding the delivery of F-16s, "it's going to take a considerable amount of time."
At a Friday news conference, Zelenskyy also commented on Ukraine's coming counteroffensive, saying it is "not a movie" and adding that it is not easy to publicly describe how it will unfold.
'The main thing is for Russia to see it, and not only see it, but feel it. Specifically, we are talking about the forces that have occupied our territory,' he added. The Ukrainian president said liberating Ukrainian territories is the main goal of the counteroffensive, and that when that starts to occur, 'you will understand what is happening.'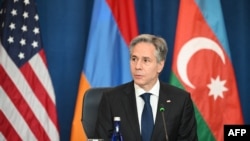 FILE - U.S. Secretary of State Antony Blinken speaks at the George Shultz National Foreign Affairs Training Center in Arlington, Virginia, May 4, 2023.
Blinken: Ukraine peace deal
U.S. Secretary of State Antony Blinken said Friday that a "just and lasting" peace deal in Ukraine must include the withdrawal of Russian troops from all Ukrainian-held territories.
'A cease-fire that simply freezes current lines in place and enables (Russian President Vladimir) Putin to consolidate control over the territory he seized and then rest, rearm and re-attack: That is not a just and lasting peace,' Blinken said.
Speaking in Helsinki, the capital of Finland, NATO's newest member, Blinken said such a violation of the United Nations Charter would send Moscow and "other would-be aggressors around the world" the wrong message.
Blinken added that the United States will encourage peace efforts by other nations as long as they uphold the U.N. Charter and Ukraine's sovereignty, territorial integrity and independence.
Some information in this article came from The Associated Press, Reuters and Agence France-Presse.