white house - U.S. Commerce Secretary Gina Raimondo met with her Chinese counterpart, Wang Wentao, Thursday, the first Cabinet-level engagement in months between the world's two largest economies.
The pair raised export policies, trade and investment issues that have been straining bilateral ties, in an exchange Raimondo's office described as "candid and substantive."
Wang also met with U.S. Trade Representative Katherine Tai on the sidelines of the Asia Pacific Economic Forum trade ministers meeting Friday in Detroit, Michigan.
The meetings took place days after President Joe Biden signaled a thaw in relations that have taken a downturn since a U.S. fighter jet shot a suspected Chinese espionage balloon over American territory in February. That incident caused bipartisan uproar in the U.S. and led to the cancellation of U.S. Secretary of State Antony Blinken's scheduled visit to Beijing.
However, in a May 10-11 meeting between White House national security adviser Jake Sullivan and top Communist Party diplomat Wang Yi, both sides appeared to put the matter behind them.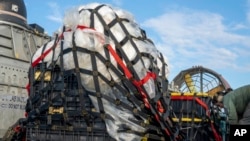 FILE - Sailors prepare material recovered off the coast of Myrtle Beach, S.C., from the shooting down of a Chinese high-altitude balloon, for transport to the FBI, at Joint Expeditionary Base Little Creek in Virginia Beach, Va., Feb. 10, 2023.
Taking down the balloon was "a clear message that we will not tolerate violations of U.S. airspace," Sullivan told VOA during a May 17 press briefing. "We have made our point."
Why now?
Beyond the desire to show that it can manage great-power competition with China and to seek cooperation on various issues from fighting climate change to stopping fentanyl trafficking, Washington is looking for Beijing to be a constructive force in the war on Ukraine, said Yun Sun, director of the China program at the Stimson Center.
Meanwhile, China is seeking to leverage a transactional relationship on issues it cares about. In the high-tech industry, for example, she told VOA that although it's inevitable that the U.S. will reduce or end its dependence on China, Beijing sees room to negotiate on specific industries, companies or products.
A mutual driving factor is the APEC leaders meeting that the U.S. is set to host in San Francisco in November, said Dennis Wilder, former National Security Council director for China, who is now a senior fellow for the Initiative for U.S.-China Dialogue on Global Issues at Georgetown University.
President Xi Jinping believes that China is one of APEC's founding members, Wilder told VOA, so "it's important to him from a national prestige point of view to be there." Meanwhile, Biden wants "as many world leaders there as possible, except for [Russian President Vladimir] Putin."
Should Xi attend the APEC summit, there's opportunity for a separate summit with Biden, their second face-to-face engagement as presidents since the pair met at the sidelines of the Group of 20 meeting in Bali last November. However, with less than six months, observers say time is running out to lay the groundwork for a meeting.
Irritants remain
'With this more conciliatory language, the Biden administration is making a sensible attempt to achieve detente in what is, essentially, a cold war relationship," said Robert Daly, director of the Wilson Center's Kissinger Institute on China and the United States.
However, since neither Washington nor Beijing has reconsidered its goals or its assessments of itself or its rival, warming ties will not change the fundamental direction of U.S.-China relations, Daly told VOA.
Many irritants that could threaten the fragile rapprochement remain, including a planned executive order establishing an outbound investment screening mechanism that would restrict American companies seeking to invest in China's semiconductor and other critical technology sectors.
There is speculation in Washington that the executive order has been temporarily put on hold to smooth out relations, but the Chinese expect it to happen at some point, said Yun.
"That does not necessarily help to build up their willingness to cooperate," she said.
Beijing is also anxious about the results of the FBI-led investigation of the remnants of the Chinese balloon. The FBI, the State Department and the White House did not provide answers to VOA's queries on when the administration would release the findings.
If the administration does not proceed with the executive order, Congress will likely push for legislation to do so, Wilder said.
'I can't explain why there isn't more pressure on the balloon report from Congress," he told VOA. "That one is a little perplexing to me."
Beijing has also hit back on the action plan to counter "economic coercion" targeting China, which the Group of Seven leading democracies released following their recent summit. The day after the G-7 announcement, Beijing banned products from U.S. memory chipmaker Micron Technology Inc. in computer systems that handle sensitive information, saying they posed security risks without providing details.
FILE - A sign marks the entrance of a Micron Technology chip manufacturing plant on Feb. 11, 2022, in Manassas, Va.
"How do they respond to criticism over economic coercion? With economic coercion," said John Kirby, National Security Council coordinator for strategic communications, in a Wednesday briefing to reporters.
However, Kirby underscored that the Micron deal would not torpedo broader goals of reopening communication lines, noting that the relationship is complicated, and turbulence is expected.
'That doesn't mean that the work shouldn't go on to try to get things back into a better position," he said.
What to watch for
A key indicator of further warming ties is whether Beijing will agree to Washington's request for a meeting between U.S. Secretary of Defense Lloyd Austin and his Chinese counterpart, Li Shangfu, on the sidelines of the Shangri-La Dialogue on defense in Singapore next week.
China Ministry of Foreign Affairs spokesperson Mao Ning said Washington should first lift sanctions against Li, to "create [a] favorable atmosphere and conditions for dialogue and communication."
Li, who became defense minister in March, was placed under sanctions in 2018 by the Trump administration for his role in China's purchase of Russian combat aircraft and equipment.
Biden said last week that the matter was "under negotiation." However, State Department spokesperson Matthew Miller later told VOA the administration was not considering lifting those sanctions.
Other indicators to watch are more high-level visits to Beijing by American officials, including climate envoy John Kerry, Treasury Secretary Janet Yellen and Commerce Secretary Raimondo.
Jeff Seldin and Nike Ching contributed to this report.